It's easy to get the DIRECTV® System that's right for you
DIRECTV defines the best TV experience in the world through a compelling mix of content, technology and service. DIRECTV has contributed to the evolution of TV with thier HD programming, interactive features, digital video recorder (DVR) services, quality customer service, and electronic program guide (EPG).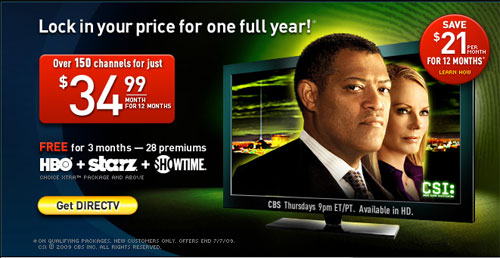 Call Now for the fastest installation in the
VA, DC & MD Metro Area 703.765.4435.
Each day, DIRECTV subscribers enjoy access to over 250 channels of 100% digital picture and sound, exclusive programming and the most comprehensive collection of sports programming available anywhere, including NFL SUNDAY TICKET™ and MLB EXTRA INNINGS®. We offer access to quality programming delivered to homes, airports, hotels, restaurants, hospitals, office buildings, airplanes, automobiles and portable electronics. DIRECTV also leads the digital television technology revolution with exclusives such as NFL SUNDAY TICKET SuperFan™, US Open Interactive and YES Network Interactive and currently offer over 90 National HD channels.


DIRECTV offers access to 265 channels of entertainment from popular networks such as the Disney Channel, CNN, ESPN and TNT, as well as up to 55 Pay Per View choices a day.
Learn more about how to order, activate, change and troubleshoot the programming you receive from DIRECTV by calling 703.765.4435.
Over 200 available channels, including local stations1
63 national channels available in HD2
The best mix of entertainment, sports, news and family programming available
15 interruption-free XM Satellite Radio channels - exclusive to business customers - are music to your guests' ears
Customize DIRECTV for your guests with a variety of packages and subscription programming
DIRECTV vs Cable
You deserve better than cable.
Access to over 130 National channels in HD*
"My signal will go out in bad weather."

Wrong. DIRECTV delivers a digital signal 99.9% of the time, rain or shine. Any minor problem will likely be fixed in a matter of minutes, not
days or weeks.
Call Now for your DIRECTV installation 703.765.4435.