DIRECTV Premium Movie Channels. Prepare to be blown away!
Premium movies and groundbreaking original series that people are talking about. If it's causing a buzz, chances are you'll find it on our premium channels!
DIRECTV offers 4 premium movie packages and 1 premium sports package you can add to your programming. Enjoy premium movies, original series and exciting sports events. Get all 5 premium services included with the DIRECTV PREMIER package!

Now BabyFirstTV™ is available a la carte for the smallest members of your family!
Call us today for more information 703.765.4435!
The more packages you add the more you save:
Choose 1 package = $12/mo* (*Additional $2 for HBO)
Choose 2 packages = $23/mo*
Choose 3 packages = $33/mo*
Choose 4 packages = $41/mo*
Get ALL 5 packages = $50/mo*
See premium package details below.
Customers who order 3 or more premium packages can often save money by upgrading to Premier - since premiums are included in the base price.

7 channels
Get 7 channels with our most popular premium package.
Along with great movies, you'll fi nd the series everyone's
talking about including John from Cincinnati,SM Entourage,® Big
Love,SM Curb Your Enthusiasm® and more. There's even a family
channel so families can enjoy watching together!


9 channels
9 channels of Hollywood hits, original
including a movies-only channel,
fi lm, sensational series, and more
any other premium network.


12 channels
12 distinct channels provide all the movies you could want,
whatever your mood. Enjoy individual channels devoted to the
latest hit movies, Westerns, love stories, mysteries, dramas,
action, and one just for teens.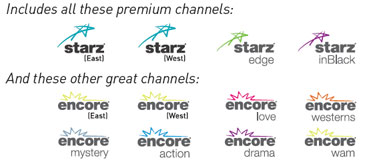 3 channels
3 great channels of the widest variety of hit movies with the
fewest repeats and a new premiere every Saturday night.
Includes popular, hard-to-fi nd movies, classics, and premieres
of foreign and independent fi lms.



Over 35 specialty and regional sports networks for people who are passionate about sports.

DIRECTV offers access to 265 channels of entertainment from popular networks such as the Disney Channel, CNN, ESPN and TNT, as well as up to 55 Pay Per View choices a day.
Learn more about how to order, activate, change and troubleshoot the programming you receive from DIRECTV by calling 703.765.4435.
Over 200 available channels, including local stations1
63 national channels available in HD2
The best mix of entertainment, sports, news and family programming available
15 interruption-free XM Satellite Radio channels - exclusive to business customers - are music to your guests' ears
Customize DIRECTV for your guests with a variety of packages and subscription programming
DIRECTV vs Cable
You deserve better than cable.
Access to over 130 National channels in HD*
"My signal will go out in bad weather."

Wrong. DIRECTV delivers a digital signal 99.9% of the time, rain or shine. Any minor problem will likely be fixed in a matter of minutes, not
days or weeks.
Call Now for your DIRECTV installation 703.765.4435.