Contact:
Tel: 703.765.4435
Fax: 703.765.5667
Email: charles.kl@live.com
Hours of Operation:
Mon-Fri: 8:00am - 10:00pm
Sat-Sun: 9:00am - 10:00pm
Mailing Address:
7525 Richmond Hwy
Alexandria, VA 22306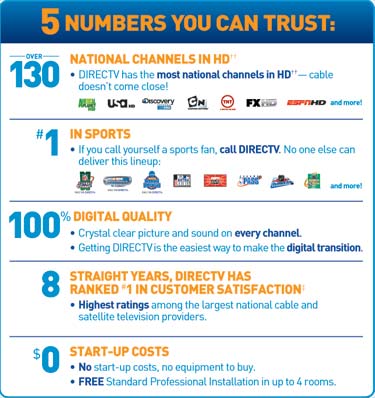 DIRECTV offers access to 265 channels of entertainment from popular networks such as the Disney Channel, CNN, ESPN and TNT, as well as up to 55 Pay Per View choices a day.
Learn more about how to order, activate, change and troubleshoot the programming you receive from DIRECTV by calling 703.765.4435.
Over 200 available channels, including local stations1
63 national channels available in HD2
The best mix of entertainment, sports, news and family programming available
15 interruption-free XM Satellite Radio channels - exclusive to business customers - are music to your guests' ears
Customize DIRECTV for your guests with a variety of packages and subscription programming
DIRECTV vs Cable
You deserve better than cable.
Access to over 130 National channels in HD*
"My signal will go out in bad weather."

Wrong. DIRECTV delivers a digital signal 99.9% of the time, rain or shine. Any minor problem will likely be fixed in a matter of minutes, not
days or weeks.
Call Now for your DIRECTV installation 703.765.4435.